fresh and local
Caithness Dairies are the delivery partner of Campbells Dairies in Thrumster and Hargreaves Sheep Dairy in Occumster. Bringing their fresh products to your doorstep in the morning.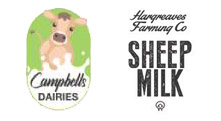 fresh milk & more delivered to your door
Cut off time for orders or changes to your current order is 12pm two days before delivery.
‍
‍*All orders submitted are repeat orders unless cancelled.
‍‍For existing customers please use the customer portal to manage your orders.
Manage your account
Getting milk to your door is as simple as filling in the form below, we will then get you setup on the system. You then can pay by Credit/Debit Card through the customer portal.
Once you are setup you will be sent login details so you can add to your order or pause deliveries without having to call or leave a note out.
New Customer Order
We now have some delivery slots available along our Wick and Costal routes. If you would like fresh local milk and milkshakes delivered to your door sign up below. Within 48 hours of signing up you will receive an email detailing how to manage your account.

<![endif]-->